Een van de moeilijkste dingen op vakantie vind ik het vinden van een goed eettentje. Meestal ga je zitten waar de meeste mensen zitten, maar vaak is dit niet het lekkerste restaurantje. De beste restaurants vind je via via, zowel door de lokale bevolking als via vrienden. Ik vertel jullie waar wij hebben gegeten in Berlijn en of dit ook echt een aanrader is.
Volver tapas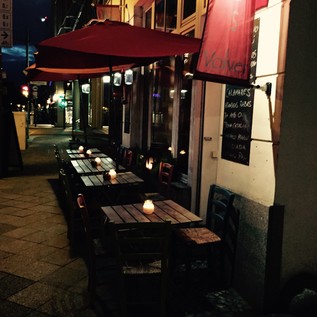 Volver tapas is een klein Spaans restaurantje in de buurt van de Friedrichstrasse. We kregen de tip van degene waarbij we die dagen logeerden. Het is een klein tentje met grote hammen die aan het plafond hangen. Je kunt er tapas eten en hele goede wijn drinken. Wij hebben echt genoten van al die kleine gerechtjes. Mijn ultime favorite blijft de patatas bravas, die hier ook verrukkelijk was.
★★★★☆
Luisenstrasse 41, 10117 Berlijn
Dit restaurantje aan de Spree
kregen we ook als tip van onze Air BnB bewoonster. Hier kun je de oeroude Flammküchen eten die zowel een Franse als Duitse oorsprong hebben. Het zijn hele platte pizza's met allerlei heerlijke ingrediënten erop. De meest gekende is de flammküchen met spek en ui, die ik uiteraard moest proberen. Mijn vriend had de Italiaanse versie met pesto, mozarella en tomaat. Het was erg lekker, maar geef mij de volgende keer maar gewoon een pizza. Het was erg druk in het restaurant, die tevens diende als een bar. Je zat met meerdere mensen aan lange tafels en ondanks dat het soms erg gezellig kan zijn, vond ik dit niet echt een meerwaarde. Het was veel te lawaaierig om een deftig gesprek te voeren.
★☆☆☆☆
Schiffbauerdamm 8, 10117 Berlijn
We konden niet terug gaan voor we de welbekende curryworst hadden geprobeerd. Naast het wereldbekende döner kebab zaakje (daar wacht je 3 uur voor een broodje) zit Curry 36, waar je schijnbaar de lekkerste curryworst in Berlijn kunt halen. Het is eigenlijk gewoon een snackbar, dus goed om gewoon iets eten te halen. Was het dan ook lekker? Als je een fan bent van een goede worst, dan moet je zeker eventjes langs gaan. Ik heb er in ieder geval van genoten.
★★★☆☆
Mehringdamm 36, 10961 Berlijn
No hablo español
Een klein tentje in Friedrichshain waar je burrito's en quesadilla's kunt eten. We dachten eerst zelfs dat het niet open was, zo klein zag alles eruit. Deze tip stond in ons Time to Momo boekje. Je kan er lekker Mexicaans eten krijgen, vooral the Indian burrito en the chorizo and cheddar quesadilla waren aanraders. Het was lekker, maar ook weer niet geweldig. Misschien een ideaal tentje als je helemaal weg bent van Mexicaans eten, maar ik zou er niet speciaal naar toe gaan als je in Berlijn bent.
★★☆☆☆
Kopernikusstrasse 22, 10245 Berlijn
Heb jij ook een tip voor een restaurantje in Berlijn?
Liefs Claudia